Introduction: Finding Vivian Maier
Vivian Maier (1926 – 2009) was an American street photographer. Her works were only recently discovered. People describe her photographs as enigmatic and capturing life's spontaneity. After she died, over 100,000 negatives, undeveloped film rolls, prints, and home movies were found in a collector's storage box in Chicago. Since then, Maier's body of work has gained worldwide attention from art critics, historians, and her admirers.
This article looks at the life and works of Vivian Maier. It explores her photography style and influences. We can learn about her unique approach to street photography. This offers deeper understanding of how she impacted the world with her captivating images that record fleeting moments in time.
Early Life
Vivian Maier was born in 1926 in NYC. She had French and Austrian ancestry, and was reared in the U.S.A. Maier had an interest in photography from a young age; she is thought to have obtained her first camera at 17.
Over her life, Maier went to many Catholic schools in France, Switzerland, and New York. In 1951, she eventually returned to the United States.
Vivian Maier's Childhood
Vivian Maier was born in 1926 in NYC. Her parents were a French seamstress, Maria Jaussaud, and a Hungarian immigrant father. Unfortunately, her father's poor health caused them to separate when she was only four. Vivian moved to France with her mum until she returned to the U.S. at nine.
Vivian then lived in NYC and Chicago. She worked as a nanny for wealthy families from the mid-fifties to the early eighties. In her free time, she roamed the streets with a Rolleiflex camera. She took amazing street photos that weren't discovered until later in life.
Vivian Maier's Career
Vivian Maier's photography career spanned from the 1950s to the 1990s. No formal training, but her love of taking street photographs and life's little moments made her nationally renowned. She had an eye for composition and light, plus a unique blend of documentary-style and fine art vision.
Her work displayed in Paris and Chicago galleries. Yet, her fame rose after her death in 2009, when her photos were shared on social media. It was as if they were meant to be discovered. Publications such as National Geographic and The New York Times featured her work, and she was honoured even after her passing aged 83.
Vivian Maier's Documentary Photography
Vivian Maier – a mysterious street photographer! Her captivating work was only revealed after her death. She took thousands of photos between 1950 and 1970, with no intention of anyone seeing them. Most of her shots were black and white, taken on the streets of Chicago, New York and LA. A closer glance at her work reveals something unique about her photography.
Vivian Maier's Street Photography
Vivian Maier's street photography has recently been revealed. It's thought to be some of the best of the 20th century. She was an amateur photographer, but also a self-taught artist. Her black and white photos show the daily lives of ordinary people from NYC, Chicago, and overseas in France, Italy and England.
Maier used 35mm and medium format cameras for her street photography. Like many other photographers, she took multiple frames of a single location. Her work was often narrative and showed candid moments of people and events. Unfortunately, no information was linked with her negatives so it's impossible to know who or what some of her pictures are.
In addition to documenting everyday scenes, Maier created experimental work. She arranged obscure objects in witty compositions or used them for surrealistic images that resemble Impressionist paintings. Her collection includes self portraits too.
Vivian Maier's legacy is kept alive through museum exhibitions and on the internet. We can appreciate the talent of the person whose years behind the camera were unknown in her lifetime.
Vivian Maier's Focal Length
The exact focal length she used in her photography can vary, as she used different cameras with interchangeable lenses. Focal lengths commonly used for street photography during that time ranged from wide-angle lenses (around 28mm) to standard lenses (around 50mm) on 35mm film cameras.
Vivian Maier: Enigmatic Self-Portrait Photograph
Vivian Maier was a talented street photographer. She began taking pictures in 1950, and during the following four decades, she created an extensive collection of images. Also, she made over 800 self-portraits from 1958 to 1972.
Most of Vivian's self-portraits were taken with a Rolleiflex camera. It had a special feature. Instead of looking through the lens, you had to look through a viewfinder above it. This may have helped Vivian stay anonymous when shooting people and herself.
Vivian often captured her reflection in windows, shop displays, and mirrors. For example, in Washington Square Mall, she took a picture of herself while looking at the shop displays.
Many of Vivian's portraits were quick snapshots. But some were thoughtfully taken. They showed that she could portray people from all walks of life. Still, Vivian wanted us to understand that portraits can be more than just people and places. They are part of everyone's ever-changing life.
The Enduring Legacy of Vivian Maier: Examining Her Work through Exhibitions, Archives, Critic Reviews, and Publications
Vivian Maier was a street photographer from France and the U.S.A. She snapped mesmerizing photos between 1950 – 1970. Unknown during her life, her photography was found after she died. It quickly gained fame.
In this part, we shall explore her amazing life and the legacy she left behind.
Vivian Maier's Impact on Street Photography and cinema
Vivian Maier's work was a huge influence on the street photography movement of the late 20th century. Her candid, often fleeting and poetic style of documentary succeeds in turning an ordinary moment into something special. Her compositions appear effortless, yet her prints are surprisingly direct.
Maier's black-and-white and color street photographs show the details of everyday life. She explored the subtle nuances of urban life and portrayed it in all its ugly beauty – without judgement or comment.
Maier raised the art form with her creativity. Through every frame she took, she could express emotion – be it a tender embrace between two children, or a nonchalant scene at a gas station. This is why we are drawn to her photographs today – they reflect our lives and remind us how extraordinary those moments can be, if we take the time to look.
Vivian Maier's Legacy in Contemporary Photography
Vivian Maier has become a famous artist in the art world. She is well-known as one of the greatest street photographers ever. Her hidden talent and her passion for color photography made her a pioneer for women in photography.
Maier's legacy is undeniable. Her unique style to capture everyday life in 1950s America still resonates with people today. Her vivid colors, raw realism and honest stories showed the world a unique view. This continues to be an inspiration for photographers around the globe.
Maier used roll film cameras and printed her own colors. She made beautiful prints and laminated them with waxed paper to protect them. She stored them away in boxes and suitcases, never seeking recognition. Vivian Maier's creative approach and her search for visual beauty still show in modern day street photography. This is why she is one of the most influential photographers of our time.
Conclusion
In the end, Vivian Maier was a remarkable street photographer and a mysterious person. She never showed her work in her life. Her photos are impressive and true. They make us consider poverty and class, showing us the difficult life in the boundaries of how people live. Her pictures get us to think about our view of life in all its details.
The difference between Maier's life and her work is obvious. Her collection of strong images were only discovered after her death. This is a reminder that no matter your position or rank, everyone is able to make something special – if they try hard enough.
Frequently Asked Questions
Q: Who is Vivian Maier?
A: Vivian Maier is an American street photographer, who was born in New York City in 1926 and raised in France. She worked for over 40 years as a nanny and housekeeper in Chicago, while pursuing her passion of street photography.
Q: What makes Vivian Maier's photography unique?
A: Vivian Maier's street photography was unique in that she had an eye for capturing everyday moments in a candid and intimate way. Her photographs have a certain timelessness to them, as she often used natural light and black and white film to capture her subjects.
Q: What is the legacy of Vivian Maier's photography?
A: Vivian Maier's photography has been widely celebrated and her legacy continues to grow. Her photographs have been featured in exhibitions around the world, and she is now viewed as one of the most important street photographers of the 20th century.
Related Articles
50mm vs 85mm street photography
Best lens for street photography
Best zoom lens for street photography
50mm lens photography ideas
Street photography lightroom
How to take street photos
Mastering 50mm Street Photography
I hope you find useful my article about Vivian Maier, I also recommend you to read my other posts in my blog at this link.
If you need help with anything join the community or do not hesitate to contact me.
Best of luck! and follow your passion.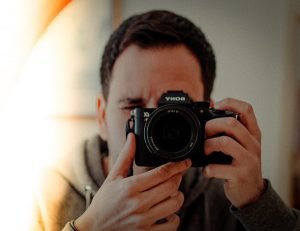 Please consider joining my newsletter or following me on social media if you like my content.
Article: Vivian Maier in Color: Rediscovered