Sony A7C: An Advanced Compact Mirrorless Camera for Street Photography
Introduction
Capturing stunning street photography images with the Sony A7C is easy when you know how. Discover the best tips and tricks to help you make the most out of this advanced camera and take amazing shots! Whether you want to capture candid street moments, vibrant architecture or dynamic action shots, the Sony A7C has a range of features to help you take stunning street photography photos. Learn the best tips and tricks for making the most out of this advanced camera and start capturing amazing pictures today!.
The Sony A7C is the smallest compact full-frame camera from Sony and it promises to take your photography skills to new heights. With its advanced features, sleek design, and superior image quality, it's no wonder why the A7C has become one of the hottest cameras on the market, especially for travelling and streets as is really small and lightweight.
Overview of the Sony A7C Camera.
The Sony A7C is a versatile and powerful camera that boasts an advanced 24.2MP full frame Exmor R CMOS sensor and ultra-fast BIONZ X image processor. This makes the A7C perfect for low-light shooting, video recording, 4K HDR movies and more. Additionally, it features a flex tilt LCD touchscreen monitor that allows you to shoot from almost any angle with ease. Its 5-axis image stabilization promises shake-free images for optimum clarity and sharpness. With all these features packed into this small but powerful body, the Sony A7C is sure to satisfy even the most demanding of photographers.
Features & Functions.
The Sony A7C features an impressive set of functions that make it an ideal camera for both amateur and professional photographers and videographers. It includes 4K recording capabilities with its XAVC S codec, which offers Full HD at 120 frames per second, plus an HDMI output that supports clean 4K HDMI output with no recording limit – ideal for filmmakers. Additionally, it has a dedicated headphone jack and mic input that are perfect for aspiring videographers. Plus, the A7C includes eye AF support to easily capture stunning portraits in sharp focus. Finally, this small full frame camera is equipped with a Z-E1 button to quickly access settings like profile switching and custom key assignments for quick, intuitive operation.
Image Quality & Performance.
The Sony A7C incorporates a 24.2 megapixel Exmor R CMOS sensor and the high-performance BIONZ X image processing engine to provide stunning, high-quality images – even in low light scenarios. Additionally, its wide ISO range of 80–204.8K and advanced noiseless typesetting algorithm minimize noise levels while still delivering an impressive 20 fps continuous shooting speed. With its fast autofocus system that covers 92% of the frame and 4D FOCUS with 425 phase detection points, you can truly capture those split-second moments in breathtaking detail.
Battery Life & Connectivity Options.
The Sony A7C features a NP-FZ100 battery which provides an impressive 820 shots per charge and is also USB Power Delivery compatible so you can charge the camera while shooting. Additionally, it comes with extensive connectivity options like Wi-Fi and Bluetooth for an effortless sharing experience, plus Multi/Micro USB, Micro HDMI, a PC sync terminal, and remote control via a smartphone app.
Pros and Cons of the Sony A7C Camera.
The Sony A7C provides users with great control and flexibility, a sturdy, robust design, excellent battery life, improved autofocus and fast burst shooting. However, it has a relatively low resolution with its 24-megapixel sensor which may not be suitable for all kinds of photography work. Additionally, the camera's lack of image stabilization can lead to softer photos in low lighting and when using slow shutter speeds.
Making the Most of Sony A7C for Street Photography
Set up Your Camera for Street Photography.
Whenever you're shooting street photography with the Sony A7C it's a good idea to set your camera up ahead of time. This will save you from having to adjust settings on the go, allowing you to focus on capturing the best shots. Start by setting your Mode Dial to M for Manual mode and then adjust your shutter speed, aperture and ISO. Ideally, you should be shooting with as fast a shutter speed as possible so aim for 1/250th or faster if possible. Then, set your aperture somewhere between f/8-f/16 depending on the available light and finish off by setting an ISO of around 100-400.
Take Advantage of Eye Autofocus.
One of the major advantages of the Sony A7C is its Eye Autofocus feature. This can make all the difference when shooting street photography. When you focus on a subject, the Eye Autofocus will automatically track and stay focused no matter how they move around. This makes it easier to capture sharp shots even when shooting at fast shutter speeds. To activate this feature just press the menu button and select 'Eye Autofocus' in the AF/MF settings menu.
Master Manual Exposure and Shutter Speed.
To really get the most out of your Sony A7C for street photography you should master manual exposure and shutter speed. This will give you precise control over how much light enters the camera to ensure perfect exposure levels in all lighting scenarios. When shooting street photography, experiment with setting your shutter speed faster than 1/200s to freeze motion and create interesting composition in your shots. If you slow down the shutter speed, you can capture light trails or even add a bit of motion blur to your images. Just make sure that when using slower shutter speeds you really nail the focus point!
Focus on Natural Light Sources.
Use the ambient light in your scene to help emphasize the mood and create some stunning images. If you're shooting near sunrise or sunset look at using the golden hour to really make your photos pop with soft light sources across your entire frame. Also pay more attention to different light sources like street lights, neon signs and window light for interesting silhouettes and unique compositions. When it comes to mastering street photography with the Sony A7C focus on making use of different light sources!
Use AF/MF/Peaking Options to Assist with Manual Focus.
Mastering manual focus is important with street photography, as it allows you to take full control of your shots and capture exactly what you want to. With the Sony A7C make use of the Autofocus (AF), Manual Focus (MF) and Peaking options to ensure you get the perfect compositions each time. When using AF, select your desired autofocus point in your frame on which the camera will focus. MF allows you to manually adjust your focus and peaking shows a coloured outline of objects in focus when you rotate the focusing ring while focusing manually.These features are extremely helpful and can help ensure that all elements in your scene are clear, sharp and fit the composition nicely!
Which lenses are best for street photography with the Sony a7c?
Understanding lens options for the Sony a7c
The Sony a7c supports a wide range of lenses, giving photographers flexibility in choosing the best lens for their specific photography needs. When it comes to street photography, lenses with a focal length between 35mm and 50mm are commonly preferred as they provide a natural perspective similar to what the human eye sees.
Recommended lenses for street photography with the Sony a7c
One of the best lenses for street photography with the Sony a7c is the Sony 35mm f/1.8. It offers a versatile focal length, excellent image quality, and a wide maximum aperture that allows for beautiful bokeh and better low-light performance. Another highly recommended lens is the Sony 24-70mm f/2.8 GM, which provides a versatile zoom range and exceptional sharpness.
For those who prefer wider shots, the Sony 16-35mm f/2.8 GM lens is a popular choice, as it allows photographers to capture more of the street scene in their frame. On the other hand, if you like to get closer to your subjects and capture compelling details, the Sony 85mm f/1.4 GM lens or the Sony 70-200mm f/2.8 GM telephoto lens can be great additions to your camera bag.
Factors to consider when choosing lenses for the Sony a7c
When choosing lenses for the Sony a7c, it's important to consider factors such as weight, size, and image stabilization. Street photographers often value the compact size and lightweight nature of their gear, as it allows for easy maneuverability and less fatigue during long shoots. Additionally, lenses with built-in image stabilization can help photographers achieve sharper images, especially when shooting handheld in low-light situations or capturing moving subjects.

What makes the Sony a7c a great choice for street photographers?
Full-frame sensor for exceptional image quality
The Sony a7c's full-frame sensor captures more light and produces images with greater dynamic range and detail compared to cameras with smaller sensor sizes. This allows street photographers to create stunning and high-quality images that accurately represent their vision.
Compact size and lightweight design
The Sony a7c's compact size and lightweight design make it an excellent choice for street photographers who need to carry their camera around all day. Its portability allows photographers to be more discreet and blend into the surroundings, capturing candid moments without drawing unnecessary attention.
Advanced autofocus and low-light capabilities
The Sony a7c features an advanced autofocus system that ensures sharp and precise focusing, even in challenging conditions. This is crucial for capturing fast-moving subjects or situations where manual focus is not feasible. Additionally, the camera's excellent low-light capabilities enable photographers to capture stunning images in dimly lit environments, further enhancing their creative possibilities.
How does the Sony a7c compare to other cameras for street photography?
Comparison of the Sony a7c with other full-frame cameras
The Sony a7c holds its own among other full-frame cameras in the market. Its compact size and lightweight design give it an edge over larger, bulkier cameras when it comes to portability and ease of use. Additionally, its advanced autofocus system and excellent low-light performance make it a strong contender for street photographers who prioritize fast and accurate focus and the ability to shoot in various lighting conditions.
Advantages of the Sony a7c over other compact full-frame cameras
When compared to other compact full-frame cameras, the Sony a7c stands out due to its exceptional image quality, extensive lens options, and ergonomic design. The full-frame sensor of the a7c produces stunning images with impressive sharpness, dynamic range, and color accuracy. The availability of a wide range of lenses allows photographers to choose the focal length that best suits their shooting style and creative vision.
Why street photographers often prefer the Sony a7c
Street photographers often prefer the Sony a7c due to its balance of image quality, portability, and discreetness. The full-frame sensor of the a7c produces stunning images with rich detail and low noise, while its compact size makes it easy to carry around for extended periods. The camera's quiet shutter mechanism and inconspicuous appearance allow photographers to blend into the environment and capture candid moments without disrupting the scene.

What are some tips for using the Sony a7c in street photography?
Utilizing the wide-angle capabilities of the Sony a7c
The Sony a7c paired with a wide-angle lens, such as the mentioned Sony 16-35mm f/2.8 GM, allows street photographers to capture expansive scenes and include more elements in their compositions. This can be particularly effective when photographing busy streets, architecture, or groups of people.
Optimizing settings for high-quality street photographs
To achieve high-quality street photographs with the Sony a7c, it's important to understand and control settings such as aperture, ISO, and shutter speed. Choosing the appropriate aperture helps control depth of field, giving the photographer the desired level of background blur or sharpness. Experimenting with different ISO settings allows for flexibility in various lighting conditions, while adjusting shutter speed helps freeze or blur motion as desired.
How to capture street scenes during sunrise and golden hour
During sunrise and golden hour, the quality of light is soft and warm, creating a beautiful ambiance for street photography. To make the most of this time of day, street photographers using the Sony a7c can set their cameras to manual mode and adjust their exposures to capture the rich colors and long shadows that define this time of day.
In conclusion, the Sony a7c is an excellent camera for street photography, thanks to its exceptional image quality, compact size, advanced autofocus system, and low-light capabilities. With its full-frame sensor and wide range of lens options, it offers photographers the flexibility and creative tools needed to capture compelling street scenes. Whether you are a beginner or a professional, the Sony a7c can take your street photography to the next level.
Sony A7C Street Photography
The most important when you are practising candid photography is to have something small and easy to carry around, that is why the fusion of technology and creativity is clear as the A7C captures the essence of life in every frame. In the realm of a7c street photography, the camera becomes an extension of your vision, allowing you to freeze candid moments in time. Armed with all the classic and popular Sony A7III street photography settings, you're equipped with a great tool to travel and enjoy photography.
A7C Best Lenses to master your craft
The Sony line has a huge selection of lenses, although for me, the a7C best lenses, are the ones really small and portable. Whether it's the quest for the best all around lens for Sony A7C or the allure of the best compact lenses for Sony A7C, each lens presents an opportunity for your artistic perspective. The a7c vs A7III debate rages on, but your lens choice remains a constant as you can use them with any Sony e-mount camera.
Choosing the Right Lens for Your Sony A7C Camera
Picking the best lens for your Sony A7C camera is important for great photos. The best lens Sony A7C can make a big difference in how your pictures look. No matter if you're new or experienced, finding the best lenses for A7C can help you take better street photos. Let's look at some choices for best lenses for street photography Sony that work well with your camera.
Exploring Lens Options for Street Photography with Sony A7C
Starting your street photography journey means finding the best lenses for street photography Sony A7C. Different lenses can help you tell stories in your photos. The Sony FE 35mm f/1.8 lens is good for many situations, capturing streets with clarity. If you want a wider view, the Sigma 24mm f/1.4 DG HSM Art lens is sharp and good in low light. When you're into taking close-up photos, the Sony FE 50mm f/1.8 lens can make your subject stand out with a blurry background.
Learning how to use your camera is also important. Knowing Sony A7C how to use settings helps you take better pictures. The best settings for Sony A7C depend on what you're shooting and where. Trying different settings and lenses, like the Sony FE 85mm f/1.8 for portraits or the Tamron 28-75mm f/2.8 Di III RXD for everyday photos, can help you learn and take better shots.
Innovation with Sony A7C Photography
With the latest innovation technology from Sony you will take great a7c images evoking emotion on the street and you will be able to use slow shutter speed thanks to the great sony a7c image stabilization. The camera's versatility is matched by its prowess in challenging conditions, sony a7c low light is great because is a full frame sensor camera and the level of noise is really low and easy to edit so you can relax and enjoy shooting in any situation. Whether you're drawn to capturing a7c portraits or experimenting with normal settings like sony a7c shutter speed and sony a7c stabilization settings, the A7C will satisfy your artistic expression for sure. I hope all the sony a7c tips and tricks you are reading in this article are helping you in your photo journey. As the world of sony street photography opens its arms to you, remember that every shot is a white canvas waiting for you.
When it comes to unlocking the true potential of your Sony A7C camera, the choice of lens is paramount. The journey to find the best all-around lens for Sony A7C or the best compact lens for Sony A7C is really important. As a photographer, you understand that the lens you choose is more than just a piece of glass; it's the conduit through which your creativity flows. Whether it's the search for the best lens for A7C or any other camera, your selection influences every frame you capture.
The art of street photography, particularly with the Sony A7III as your companion (we use this example as they share the same full frame sensor), requires lenses that can capture the soul of the urban landscape. In your pursuit of visual storytelling, the distinction of best lens for street photography Sony A7III and the allure of the best lenses for Sony A7C shape your creativity and narrative. Some photographers like to use manual vintage lenses others like the latest technology, I personally love the Sony 35mm 1.8 I find it really small and portable and easy to use in any situation giving a nice cinematic look.
Optimizing Performance with Sony A7C
Sony A7C autofocus, is great for candid photography as you usually need to capture motion and elements around you really fast, to be honest i find nearly impossible to miss a shot with this camera thanks to the autofocus options, as soon as you understand the basic settings you are good to go. To start try to pick the Sony A7C best lenses to fit your budget and style and learn how to use Sony A7C basic settings. As I have mentioned before is not easy to select the best sony lenses for street photography as it is one of the best camera brands and it has plenty of options thanks to all the 3rd party companies like Tamron, Sigma, Viltrox, etc. The Sony A7C low light performance is great so even with the basic kit lens if you don't want to spend much money you can start to take nice pictures and even some nice sony a7c portraits.
The sony a7c recording limit in video is a maximum time of 13 hours for all formats. That limit is dependent upon multiple factors like camera settings, media storage size, camera power, and internal camera temperature. If you understand good all the sony a7c settings you shouldn't have any problem when you are outside shooting with the sony a7c video recording limit as 13 hours gives you plenty of time and freedom to create without needing to charge the camera.
Concluding Thoughts: A Journey Beyond the Lens with Sony A7C
In the world of Sony cameras, innovation is always there, many years ago they were one of the first ones introducing exciting features like A7C HDMI output making connecting and sharing content easy, of course HDMI in this century is outdated but it shows how Sony has always been innovating. Nowadays you can share and connect with your phone wireless and with bluetooth in an App, and now they give us the best features we had in the old A7iii in a tiny package, easy and portable. But when comparing cameras like A7III vs A7C, it's important to understand the differences. For street photography enthusiasts, I think the Sony A7C is a no brainer, finding the best Sony lens for street photography or even the kit lens you have a great kit to shoot and enjoy. If you are more a professional photographer probably the Sony a7iii is a bit better as you have a bigger viewfinder and a few extra options.
For me the best Sony street photography lens is the Sony 35mm 1.8 but many people likes the Sony 24mm 1.4 GM. Your lens shapes your story, whether is for capturing timeless moments with a prime or a versatile best zoom lens for Sony A7C everything offers a new perspective. And while you consider Sony A7C vs A7III, it doesnt really matter the important is to enjoy and be part of a nice community Sony Alpha street photographers, all driven by a passion for visual storytelling and capturing the perfect shot.
FAQ
Is the Sony a7c a good camera for street photography?
Yes, the Sony a7c is an excellent camera for street photography. Its compact size and lightweight design make it easy to carry around, while its full-frame sensor delivers high-quality images.
What are the best lenses for street photography with the Sony a7c?
Some recommended lenses for street photography with the Sony a7c include the Sony FE 35mm f/1.8, Sony FE 24-70mm f/2.8 GM II, and Tamron 28-75mm f/2.8.
Can the Sony a7c be used for portrait photography?
Yes, the Sony a7c is suitable for portrait photography. Its full-frame sensor and the availability of portrait lenses like the Sony FE 85mm f/1.4 GM enable you to capture stunning portraits with shallow depth of field.
How is the low light performance of the Sony a7c?
The Sony a7c performs exceptionally well in low light conditions. Its full-frame sensor combined with high ISO capabilities allow you to capture sharp and noise-free images, even in dimly lit environments.
Is the Sony a7c lighter than the Sony a7 III?
Yes, the Sony a7c is lighter than the Sony a7 III. With its compact design, the a7c is a more portable option for street photographers who value mobility.
Is sony a7c good for photography?
Yes, the Sony A7C is a capable camera for photography. It is a full-frame mirrorless camera that offers high-quality image output and a compact form factor.
When it comes to Sony A7C photography, the lens you choose matters. Discovering the best lens for Sony A7C is like finding a key. Exploring Sony A7C lenses and the intrigue of the sony a7iii best lens for street photography opens up new possibilities. The camera-lens combination is important, whether it's the distinct touch of the sony a7iii street photography lens or the capabilities of sony camera for street photography that bring scenes to life. Amid the world of sony street photography camera, remember that the lens tells stories in every click. With the right lens, you're not just capturing images; you're sharing moments and stories.
Which one is the best Street Photography lens Sony?
The Best Street Photography lens Sony is the Sony 35mm 1.8 many people love the Sony 24mm 1.4 G Master. I think both are the best for Street Photography
Best street photography lens for Sony A7III?
You can use the same lens in the Sony A7c and the Sony A7III so the Best Street Photography lens Sony is the same either the Sony 35mm 1.8 or the Sony 24mm 1.4 G Master
Reviews
I hope you find helpful this article about the Sony A7C for Street Photography, I also recommend you to read my other Sony posts in my blog at this link.
If you need help with anything join the community or do not hesitate to contact me.
Best of luck! and follow your passion.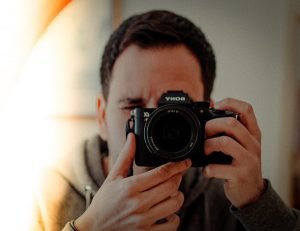 Please consider joining my newsletter or following me on social media if you like my content.
Article: Sony A7C for Street Photography
RELATED ARTICLES: