Street photography has changed significantly in the past few years due to several factors, including the impact of COVID-19. I personally prefer using a small long lens for street photography, such as an 85mm or 135mm lens, but using a 70-200mm Lens for Street Photography is also an option.
Although this lens is not subtle in appearance and is not marketed as a street photography lens, it allows the professional photographer to be further away from the subjects and capture more candid shots, thanks to the extra reach.
The zoom also allows for better control over the background and separation of subject and background. Additionally, the shallow depth of field and lens compression can help with storytelling and evoke emotion.
Can You do Street Photography with a 70-200mm zoom f2.8 or f4 lens?
While there is no right or wrong answer as to whether a 70-200mm lens works as a street photography lens, I personally find it ideal for my style of street photography, which involves being further away and capturing longer shots. A 70-200mm lens is a fantastic choice because has zoom features that allow you to create amazing photos which you can't with other lenses.
The importance of a 70-200mm lens for street photography
The 70-200mm lens is a must-have for any street photographer. Here are seven reasons why:
Flexibility in composition: This zoom lens offers a range of 70-200mm. No need to change lenses!
Isolate subjects: Capture candid moments in crowded spaces without the background interference.
Outstanding image quality: Sharp and clear, even from a distance.
Wide Aperture Settings: Low-light performance is top-notch with f/2.8 or f/4.
Versatility for different styles: Capture details, candid moments, portraits, or wider shots.
Adds depth and dimension: Creates a 3D effect that can make even crowded images unique.
Various situations: Street photography, wildlife, portrait, and architecture.
A 70-200mm lens may be pricey, but the flexibility and image quality it offers makes it worth it!
Street photography with a 70-200mm
The 70-200mm lens is a fantastic choice for street photographers, offering a myriad of benefits to help you capture that perfect moment. Its adaptability allows you to effortlessly zoom in for detailed portraits or out for sweeping landscapes. With a telephoto lens, you can achieve stunning background compression and a shallow depth of field that highlights the subject in focus, separating them from the background.
This lens also enables you to isolate particular features, making your images more powerful, and maintaining a comfortable distance from subjects like street performers. The high-quality glass ensures sharp, clean images, while the flexibility of the lens encourages creative framing and composition. For those passionate about street photography, investing in a 70-200mm lens can truly elevate your work and showcase your unique style.
Take, for example, a skilled street photographer named Alex who recently used this lens to capture a captivating moment during a strike on the streets. With the 70-200mm lens, Alex was able to isolate a protester's passionate expression while maintaining a safe distance from the action. The shallow depth of field made the subject stand out against the blurred background of the crowd, emphasizing the raw emotions of the scene. The high-quality glass ensured a crisp, clear image, and the lens's flexibility allowed Alex to frame the shot creatively, telling a powerful story with just one photograph.

Advantages of a 200mm lens for portraits
A 200mm lens is an excellent choice for portrait photography. The longer focal length of a 200mm lens helps create a great perspective by slightly compressing facial features. While not as commonly used for street scenes, 200mm photography can help isolate subjects from busy backgrounds. Also 200mm street photography helps to take candid pictures from far so you don't need to be so close to your subject creating nice 200mm lens photos.
A 70-200 for portraits is also a popular choice among all type of photographers, street photographers, event photographers and wedding photographers. A 70-200mm lens distance is ideal for events because can be far and captures amazing photos with nice bokeh.
In my opinion as a street photographer, the Sony 70-200 f2.8 is the best portrait lens because it gives you versatility to capture both environmental portraits and classic headshots with beautiful bokeh. The fast aperture allows shooting in lower light, and the image quality is superb.
Focal Length and Aperture
The focal length and aperture of this lens have proved to be invaluable assets throughout the days. The versatility of the 70-200mm focal range allows capturing both close-up portraits of people and wider shots that showcased the colorful surroundings in different situations. The lens's aperture capabilities enabled to create images with a shallow depth of field, making subjects stand out against a beautifully blurred background. That's why is so important focal length and aperture when you are on the street. Many photojournalists pick this lens also for this reason.
A 70-200mm lens offers great photo quality and it also provides a lot of versatility perfect for tricky and dynamic environments. With a telephoto you can easily adapt to the constantly changing scenes, quickly zooming in and out to ensure you never missed a beat. This lens truly helps to bring the story of festivals or street scenes to life, and the resulting images continue to remind the power of street photography.
Zoom lens and Telephoto Capabilities
The 70-200mm lens is ideal for street photography! See some reasons below:
Zoom in & out without losing image quality.
Capture distant subjects without being intrusive.
An excellent alternative to prime lenses.
Capture candid moments from a distance.
Create shallow depth of field and creamy bokeh for portraits.
Perfect for low-light conditions.
Highly versatile; a great investment for any photographer.
Pro tip: Respect your subject's privacy when using a 70-200mm lens for street photography!

Image Quality and Build Quality
Now going into more detail about the image quality of a telephoto lens like the 70-200mm lens for street photography. See a few more advantages below:
Image quality – it produces sharp, clear images with great contrast and color accuracy. Plus, the large aperture allows for beautiful bokeh and low-light shots.
Portrait capabilities – capture candid shots of people on the street.
Weather sealing – added protection in rain or dusty conditions.
Focus speed – autofocus is fast and accurate.
Image stabilization – Normally this telephoto lens can capture sharp images even at slow shutter speeds.

Canon EF 70-200mm and Other Brands
The Canon EF 70-200mm lens size is really popular for street photographers. But other brands like Sony, Nikon and more have their own distinct features and advantages!
Here's why every photographer should invest in this Canon EF 70-200mm lens:
Versatility – this lens offers a wide range of focal lengths for close and distant subjects.
Blur Background – you can create depth-of-field effects and blur the background with a wide aperture setting (f/4 or f/2.8).
Image Stabilization – many 70-200mm lenses have IS to reduce camera shake and take sharper images.
Durability – Canon's EF 70-200mm is dust and moisture-proof, perfect for outdoor shooting.
Compatibility – it's compatible with multiple camera bodies.
USM – Canon's EF 70-200mm features USM tech for quiet and fast autofocus.
Quality – the sharpness and quality of images produced by this lens is unparalleled!
Whether you go for Sony, Canon or any other, a 70-200mm lens should be a must-have for every street photography enthusiast.
Accessories for the 70-200mm Lens for Street Photography
With the right accessories, you can take your shots to the next level! Here are 3 accessories to consider for your 70-200mm lens:
Teleconverters. These help you zoom in further and capture faraway subjects in detail. A 1.4x or 2x teleconverter is ideal.
Tripods. Invest in a high-quality tripod to keep your camera steady, especially in low light.
Camera Bags. Look for a lightweight, water-resistant bag with enough compartments to store your 70-200mm lens and other accessories.
With these accessories, your 70-200mm lens will be unstoppable! Capture beautiful street photography that will blow everyone away.

Conclusion
In conclusion, a 70-200mm lens is a good lens for street photography, I also like the Tamron 28-200mm because is small and really versatile allowing candid shots and control over the background. It also provides an extra stop of light and the telephoto zoom helps to stop the action of moving subjects. Although it may not be subtle in appearance, the lens is also suitable for indoor sports and is much lighter and smaller compared to other lenses.
Landscape photographers may prefer a wider focal length lens such as 24mm or 12mm, but for street photographers who want to get closer to the action and capture sharp shots with background blur, one of these lenses can help achieve that. With the focus ring, getting the shot is made easier, even when handholding the camera. Overall, if you try using a 70-200mm lens for street photography, you'll understand the benefits it can provide, and you'll never know until you try.
Glossary
A Glossary of Technical Terms Related to Lenses Used in Street Photography:
Aperture: The hole in the lens for light to pass through. It is measured in f-number or f-stop.
Focal Length: The space between the center of the lens and the sensor when it is focused on infinity.
Wide-angle lens: Lens with a focal length shorter than 35mm for a wider view.
Telephoto lens: Lens with a focal length longer than 70mm to magnify and compress the perspective.
Zoom lens: Lens that can change its focal length without changing the actual lens.
Prime lens: Lens with a fixed focal length that can't be altered.
Image stabilization: Mechanism reducing camera shake for sharper images.
Using a 70-200mm lens in street photography has its perks. You can take candid shots from afar without disturbing the subject. Plus, it compresses the background making it appear closer to the subject. Image stabilization lets you shoot at slower shutter speeds with no worry of camera shake. Finally, the wide range of focal lengths lets you zoom in or out to suit the composition.
Resources and Further Reading
Street photography requires the right lenses. The 70-200mm is a great choice for this. Here are some resources to help you get the most out of it:
Websites: Check PetaPixel, DPReview, and Digital Photography School for reviews, guides, and tutorials.
Books: Dive deeper with "The Art of Photography" by Bruce Barnbaum and "Street Photography Now" by Sophie Howarth and Stephen McLaren.
Related Lenses: 50mm prime, 24-70mm zoom, 35mm prime.
Pro tip: Experiment with different lenses and angles! You'll become more confident in your skills.
FAQ: 70-200 street photography
Can a 70-200mm zoom lens be used for street photography?
While a 70-200mm zoom lens can technically be used for street photography, it may not be the most practical choice. The large size and weight of the lens can make it difficult to use discreetly, and the long focal length can make it challenging to capture the quick movements and dynamic scenes that are often characteristic of street photography.
What is the difference between an f4 and an f2.8 lens?
An f2.8 lens allows more light into the camera compared to an f4 lens, which can result in a shallower depth of field and better low-light performance.
What is the benefit of using a teleconverter with a Sony 70-200 lens for street photography?
Using a teleconverter with a 70-200mm lens can increase the focal length, which can be useful for capturing subjects from a greater distance. However, it may also make the lens larger and heavier, which can make it more challenging to use for street photography.
Why do you need a 70-200mm f4 lens for street photography?
Someone may not necessarily need a 70-200mm lens for street photography. It is not the most common lens choice for this genre due to its large size and weight, and the fact that it may not allow for quick and easy capturing of candid moments.
Is a 70-200mm f2.8 lens suitable for every photographer?
No, a 70-200mm lens is not suitable for every photographer or every type of photography. It is a versatile lens that can be used for a variety of genres, but other lenses may be better suited for specific situations.
How good are 70-200mm lens photos?
You can capture really good and professional images with this focal length. You will have a really nice bokeh making your images look sharp and professional. It is great for portrait. The only inconvenient is the heavy weight of these lenses and the high price tag.
Related Articles
85mm lens for street photography
Best lens for urban photography
Best zoom lens for street photography
Seven streets photography trends
Sony 70-200 f2.8 portraits
Street photography with telephoto lens
Zoom lens for street photography
I hope you find useful my article about Using a 70-200mm Lens for Street Photography, I also recommend you to read my other posts on my blog.
If you need help with anything join the community or do not hesitate to contact me.
Best of luck! and follow your passion.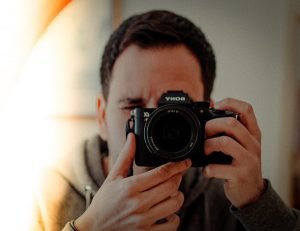 Please consider joining my newsletter or following me on social media if you like my content.
Are you an aspiring photographer on a tight budget? Are you looking for affordable tools...Read More